A huge number of car tires every year is simply thrown away. Therefore, now there are some ways to recycle tires or reuse them. There are many ways today to use old tires. Some of the ways to recycle are: making a road surface, elements of landscape design, shells for exercise and even building houses.
In addition, they can become good furniture. Depending on the final touch they can serve both inside the house or outside it. Making sofa out of old or new tires may probably not work, though. However, creative chairs can be made easily and they're pretty cost-effective too. We cannot say that they come with utmost aesthetics, but it is reliable and the key thing is that it is unusual. And if you want, you can make a whole set of furniture: a table, chairs, an ottoman, and anything else you can possibly think of. You just need to be creative.
Getting Started
When creating any furniture, car tires should be thoroughly washed, dried and treated with alcohol, acetone or any solvent. If the tires are painted, then use alkyd, acrylic or special rubber paint on them. Also, you can find velvet paint, which gives an interesting effect of velvety texture.
Most of the tires are repurposed for seating, as well as in making tables. So, to create the easiest chair you need two tires and 15 minut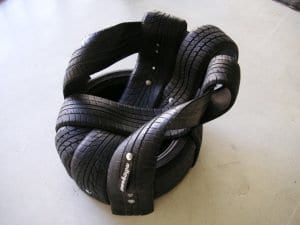 es of time. Make two cuts in one of the tires and insert the other into these cuts until they fit in perfectly. The chair is ready!
Another simple version of the chair is with three tires. One tire is used as a base. The other two must be cut into pieces and fastened to the base and backed with bolts and nuts. It would seem to be an elementary invention!
Let's go ahead. We take four old tires, two old pillows (or a piece of foam rubber) and a ribbon rope (strap). The tires need to be connected to each other using a band rope. Then fill the center of the tires with pillows or pieces of foam rubber, wrapped in a cloth. You can attach wheels to the tires.
Kicking it up a notch
Another way to create a comfortable chair from the tires. We need two or three tires (depending on the desired height), one or two sheets of plastic or plywood and a thick rope. First, a slot is made in each tire: a backboard of plywood or plastic will be inserted into it. For the stability of the backrest, the slot must be narrow. Tires are stacked on top of each other, and a backrest is inserted into them. It is better to fix the backrest: drill holes in the back and tires, and then fasten them with thick wire or bolts with nuts.
For the binding, you pass your hand through the center of a stack of tires (it's easier to do with someone else). In the end, you should wrap the foam base of the chair.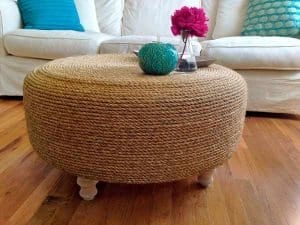 You can sew a removable cover on the chair. And one of the options for finishing such an armchair is with the help of a rope. It is more effective if you make a pigtail out of two ropes. The rope can be glued to the tires or sew onto the original woven cover. If you glue, you can use both conventional and hot glue. After gluing, do not use the chair for 24 hours: polymerization must pass. When you create a cover you need to wrap the rope around the entire chair, while securing each subsequent circle of the rope with the previous one. For the binding, you can use a fishing line. You can also paint the rope with dyes for wool and cotton. Fortunately, a rope is easy to dye.
Well, if you do not need an armchair, but a pouf, then it is quite easy to make it. Take one or two tires, fill the middle hole with a seat made of foam rubber, pre-covered with upholstery fabric. In case you're working with two tires, they are fastened through a hole in the middle with bolts. As in the case of an armchair, an ottoman can be made mobile by putting on wheels. Decorating it with rope would look good too.